Education
GENEALOGY CLASSES AT LIBRARY

The Genealogical Society of Collier County, Inc. offers beginning  genealogy classes sponsored by the Collier County Public Library and open to the public free of charge. This educational course is geared to those new to genealogy or just getting started in researching their family history.
GENEALOGY CLASSES 
Fall 2023 Library Genealogy Classes 
Genealogy class will be taught by Marie Overman in the fall at the Collier County Regional Library. 
Registration is open.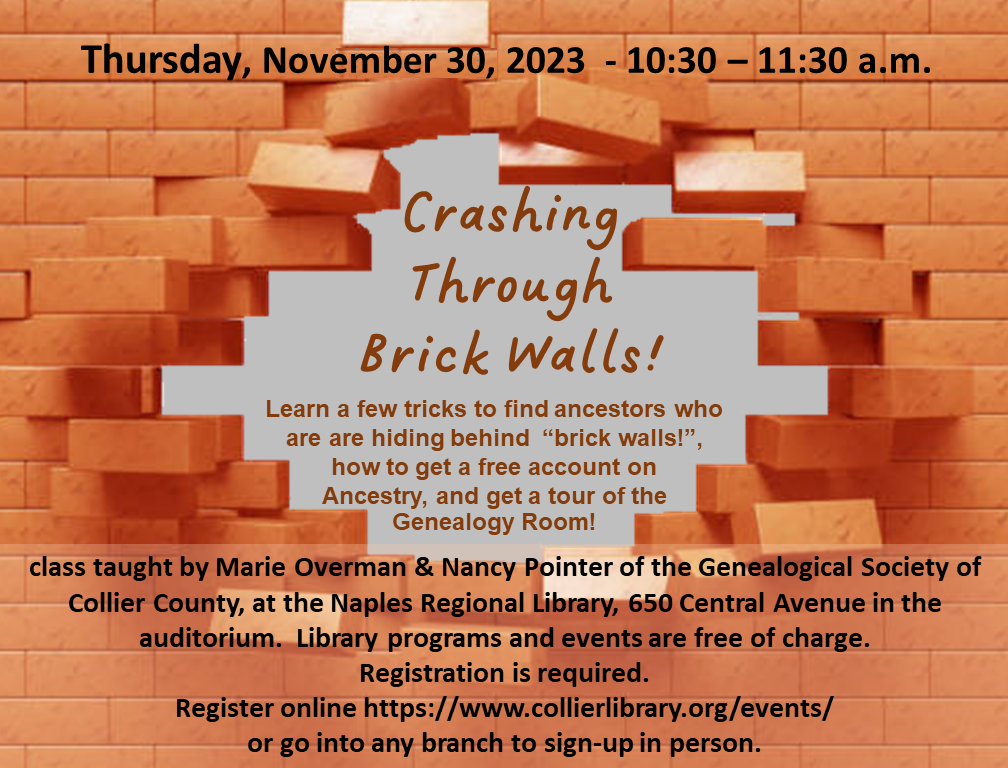 SHARED INTEREST GROUPS
Open to members with an interest, please consult our Schedule page for dates and times.
ANCESTRY/ FAMILY TREE MAKER SIG
CANADIAN eSIG
WRITER'S SIG
DNA SIG
Hosted by Arthur Sissman
JEWISH GENEALOGY SIG
Hosted by Arthur Sissman
Location: Jewish Federation Office,
2500 Vanderbilt Beach Road, Suite 2201
 GENEALOGICAL SOCIETY OF COLLIER COUNTY MONTHLY MEETINGS
Where: Moorings Presbyterian Church, Moss Hall
791 Harbour Drive, Naples, FL Click Here for map
Parking and hall entrance are located in back of church.
When: 7:00 p.m. second Tuesday each month.* (October through May)
Educational Program presented during meeting.
Guests are welcome to attend.
Click on our Schedule page link for program topics.
GET RESEARCH HELP AT THE LIBRARY

VISIT THE GENEALOGY ROOM- The Genealogy Collection is located at the Naples Branch Library, 650 Central Avenue, in the reference area.  It is a non-circulating collection of basic and intermediate resources, including books, periodicals, electronic resources, and web-based subscription databases which include Ancestry.com, HeritageQuest and New England Ancestors. Volunteer members of the Genealogical Society of Collier County are available to assist you in the Genealogy Room.  Please visit the VOLUNTEER HELP link for a schedule of the times the volunteers will be available throughout the week.
RESEARCH FROM HOME
From your home computer using the Internet you may access HeritageQuest through the special library link using your library card.  Click on the LIBRARY Link on the left menu. The Collier County Public Library has a subscription to HeritageQuest Online , which offers the U.S. census, family history books, city directories and much more. You may access this database from your device using this link and your Collier County Public Library card. NOTE: Enter your library card number when prompted for barcode.
SPEAKERS ARE AVAILABLE TO TALK TO YOUR GROUP

Subject: Genealogy- Demonstrations and lectures on how to start your family tree and record your family history. Contact us: Click Here